Meet The Maker
Hello and welcome to my little slice of creativity!
My name is Denise and I am a Fifth Grade teacher in Edmonton, Alberta.
This started as a casual hobby a few years back but when the pandemic hit, it became more than that. With more earrings made than I could possibly wear,
I am happy to share my designs with the world to bring a little Opal Creative to everyone. 
Made with Top Quality Products
All earrings are made with quality polymer clay and nickel-free earring posts. Like a style but don't see your colour? Send me a message and I can meet your needs.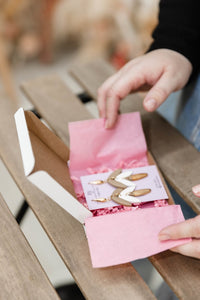 Prepared and Packed with Love
Every pair of earrings is hand-crafted with love. From mixing the colours, to designing the patterns, cutting, baking, and finishing... every step is done by me to bring the best product to *you*.
Shipped with Care within 10 Days
All earrings will be packaged and shipped out to you within 10 business days. All earrings are shipping within a Slotbox Mailer to make sure your product arrives safely to you. 
Want Something Else?
Don't quite see what you are looking for? Send me a DM on instagram at opal.creative or an email at opalcreative.design@gmail.com for a customized product made just to your liking!
FAQs
How do I care for my earrings? 
- Keep them dry. Do not wear your earrings in the shower, swimming, etc. If you need to clean them, use a damp soft cloth with water. You can use rubbing alcohol and a q-tip but if your earrings are glazed or have gold foil it may cause them to tarnish.
Are the earrings heavy?
- NO! Polymer clay is super light weight. Each pair of earring weighs 10 grams or less. Comfortable for all day wear. 
What if my earrings break or arrive damaged? 
- If your earrings arrive damaged or break within 2 weeks of receiving them, send me a message or an email and I will remake them for you! 
Do you accept returns?
- For hygienic reasons, returns are not accepted. If you have a problem with the earrings, send me a message and I will help you out!